A Streamlined Procurement Cycle
Use Sage Intacct Purchasing to create structured, predefined transaction and purchase approval workflows that increase purchasing speed, accuracy, and efficiency. At the same time, Sage Intacct's comprehensive suite of dashboards and reporting tools lets you monitor budget vs. actuals, analyze costs, and gain visibility into your entire procure-to-pay cycle. That's purchasing software, perfected. DonorsChoose.org saves 50 hours per month, shortened their monthly close by 60%, and increased their finance team's efficiency by 20% – thanks to Sage Intacct's streamlined purchasing workflows.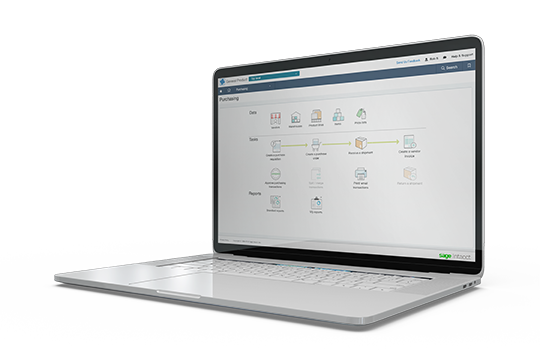 EVERYTHING YOU NEED FOR FASTER, SMARTER PURCHASING
Sage Intacct's cloud-based purchase order management software automates your unique workflows and accelerates purchase requisitions, purchase orders, and approvals. The Sage Intacct purchase order system connects with accounts payable, cash management, and  inventory, so you don't enter the same information twice. And you can drag-and-drop files for simpler record keeping and instant access to supporting documents.
Watch the customer testimonial:
For privacy reasons YouTube needs your permission to be loaded. For more details, please see our
Privacy Policy
.
I Accept
See the Entire Purchase Management Process
Sage Intacct purchase order management software gives your team easy access to critical information. You'll see customizable, role-based purchasing dashboards, so you can quickly track budget performance, compare purchase quotes, see price breaks, and more. With real-time information at a glance, Sage Intacct purchasing software lets your team focus on making the right purchase decisions.
Sage Intacct Puts You in Control
Take complete control of your entire procure-to-pay process. With Sage Intacct purchase order software, you leverage best-practice templates that enforce and control your careful, thoughtful processes for purchase requisitions, quotes, orders, returns, and more. Set spending limits to maintain budget compliance with spend management. And you can use tailored workflows and approval processes for purchase order management to ensure everyone adheres to your organization's unique requirements. Sage Intacct puts ERB in control with structured processes – delivering a 3D view of its business – and help grow their business by 5%.
"We had outgrown QuickBooks and wanted a robust system that could automatically process contracts as purchase orders are received, bill customers, accept payments, post to the general ledger, do revenue recognition, and produce financial reports. After evaluating Oracle NetSuite as well, we found that Sage Intacct's user interface was superior, along with being more affordable. We were pleased with the software's Salesforce integration, quick implementation, and helpful training offerings."
Director of Accounting, GoGuardian
Highlights
Stay on top of purchasing: Increase accuracy by automating purchasing transactions, data entry, and approvals.

See what matters: Save time and improve your focus with complete visibility to real-time information about vendors, orders, and other purchasing information.

Maintain customized control: Improve financial control with both templated and tailored purchasing management workflows.